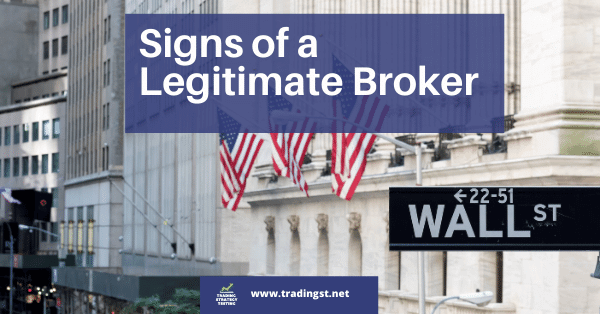 Signs of a Legitimate Broker
When you are selecting the brokerage firm you plan to do business with; there are a number of signs you can look out for. So, let's take a look at these signs:
You can get full information on the parent company running the platform. This is a biggie. If you cannot find out who's behind the platform, then you are better off staying away from them. When you know who is running the show in the background, then you can rest assured you are dealing with pros. The main issue to keep in mind is that not being sure of who you are dealing with can lead you to give your money to unlicensed firms. This will not only result in you losing your money, but you may also end up sharing sensitive personal information.
They are licensed. This is another important thing to consider. If the firm you are dealing with cannot produce any official licensing information, then you had better run away as fast as you can. Please keep in mind that platforms pop up every so often. Now, they might be licensed for a while. But after the scam enough people, they lose their licensing. Yet, they advertise themselves as if they were duly licensed. So, a cursory check at their licensing information should provide you with the assurance you need. In particular, a walk through the Securities and Exchange Commission's (SEC) website should provide you with the assurance you seek.
The price makes sense. When you are dealing with officially licensed firms, the price will reflect this. While we're not saying that it will be expensive, we are saying that the price will be on par with the market. This is why you need to beware of prices that are too good to be true. Of course, there is always the chance that you are dealing with promos. However, the price should be a major tip-off.
There are plenty of reviews about them. Whether they are good or bad, you will find a good number of reviews about them. Users will be happy to leave both good and bad comments if given a chance. As such, finding a good amount of comments about them will help you determine if they are right for you. In contrast, if you can't find any information on them, then you might very well be dealing with a fraudulent company. This is why user feedback is so important.
They have an active presence on social media. If they are legit, you'll find them all over social media. Consequently, you will also find a number of user reviews and conversations about them. This is a great way of knowing who you're really dealing with. Even if they are new in the market, you'll them making an effort to gain traction on social media. In some cases, legitimate brokers will go out of their way to ensure engagement. Such efforts are always a positive sign.
Signs of an Illegitimate Broker
When you're shopping for a brokerage firm to grant you access to the market, it might be tempting to go with the cheapest option you can find. At first, this may seem like a good idea, but one the whole, please bear in mind that you get what you pay for. So, here are the most important signs to watch out for when looking to spot illegitimate brokers.
They don't offer a demo account. This is a key issue when it comes to determining if you are dealing with a legit broker. Any time you sign on for a new account, you should get a chance to try out the platform for free during a short trial period. This period is generally 15 days though it could be longer depending on the type of promotion the company may be running. In some cases, you may get a full access 7-day pass. As long as you get the free trial period, you can rest assured that you'll have the chance to test the entire system out first and then make up your mind. If the broker asks for money upfront, then you may be getting yourself in trouble.
They don't disclose their licensing information. This is an automatic deal-breaker. If you can't get any information on their licensing, then it's best to just get away from their platform. Clever scammers may appear to sell you access to a platform, but you might find out that it's just a test platform or some other type of demo software that doesn't actually trade the real thing. So, you might get scammed into believing you are really trading when you're really not. Also, you may be dealing with a once reputable broker that either has an expired license or a revoked one. So, make sure you do your homework on this one.
They don't provide any information about their leadership or board members. When you're dealing with legitimate companies, they are generally publicly traded firms. As such, this type of information is available on their website. You can easily find out who's on their board and what type of credentials they have. Additionally, you can find links to social media pages like LinkedIn. While this isn't exactly a guarantee either, illegitimate brokers are usually scant with the amount of information they provide.
You can't find information on the financial institution backing them. Whether it's a financial institution such as an investment firm or a bank, you'll be able to easily get information on who's running the platform. If the platform is not clear about this, they are trying to scam you, plain and simple. By getting information on the institution supporting the platform, you can then decide if you'd like to do business with them or not.
They are little to no reviews. Some of them are clearly fake, too. Social media is really good at exposing scammers. If you find that their social media sites are filled with glowing reviews, that should serve as a red flag. Additionally, it's important to keep in mind that there will always be unhappy folks. So, a balanced amount of positive and negative comments should provide you with enough food for thought. Also, if positive comments appear to be coming from fake profiles, then you have an idea of what you're dealing with.